I'm bad (more like lazy, actually) for not using cloth diapers with my son. To think I have dozens of them (the Gerber and Chino Pino ones were even really expensive). But between dealing with a C-section recovery and a demanding son, I really preferred the convenience disposable ones offered.
I made sure to wash my baby's bum 95% of the time when I change his nappies though, so I never had to worry about rashes.
We were charged/issued with Drypers at the hospital and hubs loved it. We were hiyang with it. And back then, when our son poops 8-10 times a day, it seemed pointless to use Huggies Dry because we didn't need it's level of absorbency and dryness just yet. Plus, it was at least P2 more expensive per diaper.
We didn't like Prokids... mainly because we had issues with its tape (we keep pulling it off without trying). And I was turned off by the smell of Pampers (it smelled like sanitary napkins).
I wanted to experiment with other cheaper brands because I, of course, wanted to save money. My husband was against it. Anyway, I ended up trying Wee Wee Care and SM Bonus (ended up giving most of them away because I got scared of hubs finding out, hehe, esply since my son had UTI problems due to a phimotic peen). I actually wanted to use Happy too (love the colors) but again, I didn't want hubs upset.
Anyway, Happy and SM Bonus might have worked... but they're covered in plastic so they must be hotter for babies indeed.
And ever since my son started being mobile, he also started scratching his Drypers so that it would look ragged even if he's just freshly-changed.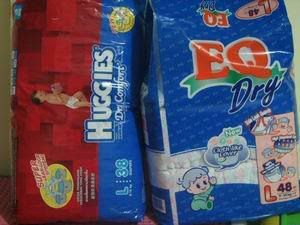 Anyway, I still use Drypers sometimes... but mostly use EQ Dry during the day, at five-hour intervals (except when he poops or we're somewhere cold that gets him urinating more). At night, I use Huggies Dry.
Why use two different brands? Well, I actually have issues with my son's butt marinating in pee (no matter how dry the diaper stays) but I have more issues with having to risk waking him for a dipaer change, and having to wake up in the middle of the night to do it. So I use the more expensive, more absorbent, drier brand during the night.
I could, of course, use Huggies Dry during the day as well... and just lengthen the intervals of the diaper changes. But since my son is playing and mobile all day, even the best brands end up in clumps.
And I buy diapers in bulk... people at home even kid me that I
panic-buy
the stuff. Right now, we have some five packs here at home (2 Huggies Dry, 1 Huggies variant from the US, 1 Huggies Pull-ups and EQ Dry). But see, it is actually cheaper to buy them in bulk. And wouldn't it be a drag to hightail to a drugstore in the middle of the night because you're out?
*~*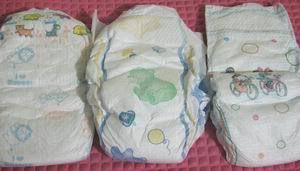 Here are three Huggies diapers (first two from left are Huggies Dry, the one at right is the US variant). I am loving the design of the one in the middle... not sure if Huggies has officially changed its design or not. The one at left came from a pack we bought at factory price from someone who works from Kimberley Clark (at P7 ea), the one in the middle is a freshly-bought pack while the one at right was sent by my Mom.
Hands down, Huggies diapers from abroad are nicer to use, they don't look as if they're filled to bursting after a wee-wee or two (like the local ones) and are slightly bigger.
*~*
I know... I must have time in my hands to be discussing diapers this lengthily!