When my cousin's wife texted me last week that her blood pressure became unmanageable and she's been scheduled for a CS delivery already, my heart really stopped for them.
She already has three other kids and other complications might happen. I didn't want my nephews and niece to lose their Mom.
And then there's the fact that she was giving birth eight weeks away from term. What if her youngest don't survive?
And there's that hell of a hassle where breastfeeding is concerned, given their circumstance.
So I really fret and prayed with all my might.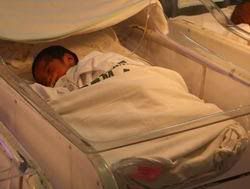 God is good.
Bianca Serene
was born last October 26. Her mother has been discharged already too, but she is still under observation (plus, she really couldn't nurse just yet so she's 'fed' intravenously) because there seems to be some obstruction in her intestines. Which is why I need your prayers. Please help our family pray that she'd steadily gain weight (she was born at only three POUNDS and several ounces) and whatever blockage in her stomach will resolve itself without requiring surgery. Help us pray that Bianca will weather these early storms and have a chance at life. That she will be enjoyed by her siblings and enjoy having them love and fuss over her.
Bianca means white or pure. Serene means calm. I thought up the name (because my cousin and wife were too exhausted and emotional to think of one, so I thought up various names and combinations for them).