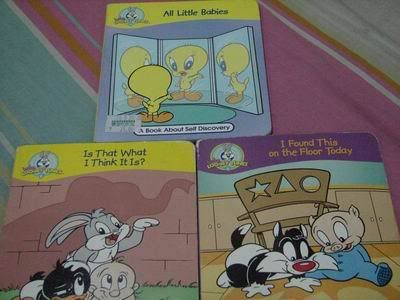 Mothering sure is made easier with books. The bright pictures catch your baby's attention, the flaps interest him, and if all else fails, any book is sure worth a lick or gnaw.
Babies have learned to eat books way before dogs learned to eat homeworks, after all.
So aside from the Harry Potter hardbound copies which I hope to pass onto my offsprings, these were the first books I bought. Baby Loony Books from Booksale.
And thanks to thoughtful gift-givers, my son has at least four electronic books as well as Sesame Street books, Brainy Baby books and some
Christian books
(I love his Baby Bible Book). I've also started investing on classic fairy tales and currently reading this Read-Aloud series of Myths and Legends.
And am halfway through completing the Amelia Bedelia series too!
Hopefully, my son will grow up devouring books as I have, and not literally too... but literary!